Great white/Death/Man-eater/Tommy/Uptail/White death/White pointer shark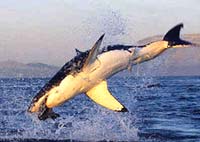 Scientific Name: Carcharodon carcharias
The great white shark is the most fearsome predator of water among all fishes. The great white shark is a streamlined swimmer and a ferocious predator with 3,000 teeth at any one time. This much-feared fish has a torpedo-shaped body, a pointed snout, a crescent-shaped tail, 5 gill slits, no fin spines, an anal fin, and 3 main fins: the dorsal fin (on its back) and 2 pectoral fins (on its sides). When the shark is near the surface, the dorsal fin and part of the tail are visible above the water.

Only the underbelly of the great white shark is actually white; its top surface is gray to blue gray. This is useful in hunting its prey. The great white usually strikes from below and its grayish top coloration blends in with the dark water, enabling it to approach the prey unobserved.
Great whites average 12-16 feet long (3.7-4.9 m) long. Females are larger than males, as with most sharks. Shark pups can be over 5 feet (1.5 m) long at birth
Young great white sharks eat fish, rays, and other sharks. Adults eat larger prey, including pinnipeds (sea lions and seals), small toothed whales (like belugas), otters, and sea turtles. They also eat carrion (dead animals that they have found floating dead in the water).
Great whites do not chew their food. Their teeth rip prey into mouth-sized pieces, which are swallowed whole. A big meal can satisfy a great white for up to 2 months.
The great white shark has 3,000 teeth at any one time. They are triangular, serrated (saw-edged), razor-sharp, and up to 3 inches (7.5 cm) long.
The teeth are located in rows, which rotate into use as needed. The first two rows are used in obtaining prey, the other rows rotate into place as they are needed. As teeth are lost, broken, or worn down, they are replaced by new teeth that rotate into place.
Shark's primarily use their sense of smell followed by their sensing of electric charges. The shark's other senses, like sensing changes in water pressure, eyesight, and hearing, are less important.
The great white's nostrils can smell one drop of blood in 25 gallons (100 liters) of water. (Shark nostrils are only used for smell and not for breathing, like our nostrils. They breathe using gills, not nostrils.)
The sensing of minute electrical discharges in the water is accomplished by a series of jelly-filled canals in the head called the ampullae of Lorenzini. This allows the shark to sense the tiny electrical fields generated by all animals, for example, from muscle contractions. It may also serve to detect magnetic fields, which some sharks may use in navigation.
The great white is the only type of shark that will go to the surface and poke its head up out of the water. No one knows exactly why it does this; perhaps it is to see potential prey such as surface-dwelling sea lions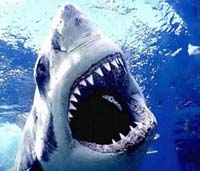 Shark Attacks:
The sight of a shark's triangular dorsal fin cleaving the surface of the water is the traditional warning to the swimmers: SHARKS! GET OUT OF THE WATER!
But this warning is seldom given. Sharks rarely swim with their fins in the air. They attack from below. Attacks on humans by great whites have been reported as far as back as ancient roman times. Each year there are about 50 to 70 confirmed shark attacks and 5 to 15 shark-attack fatalities around the world. The numbers have risen over the past several decades but not because sharks are more aggressive: Humans have simply taken to coastal waters in increasing numbers. Out of more than 375 known species of sharks, only about a dozen are considered dangerous to human beings.
Most great white attacks are not fatal. Great whites account for about 1/2 to 1/3 of all 100 annual reported shark attacks. Of these 30-50 great white attacks, only 10-15 people die.
The Great white sharks are usually solitary beings, but are often sighted travelling in pairs.
Great white sharks are found near shore along most of the temperate (not very hot and not very cold) coastlines around the world. Great white sharks have been observed along the coastlines of California to Alaska, the east coast of the USA and most of the Gulf coast, Hawaii, most of South America, South Africa, Australia (except the north coast), New Zealand, the Mediterranean Sea, West Africa to Scandinavia, Japan, and the eastern coastline of China and southern Russia.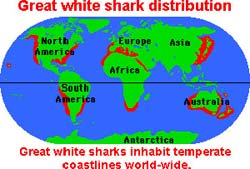 In the fall, some females migrate to warmer waters (for example, southern California) to give birth.
Great whites are propelled through the water by their powerful tails. The fins are only used for balance. Their movement is more like an aircraft's flight than other fishes swimming. They average about 2 mph (3.2 kph) but can swim 15 miles per hour (24 km/h) in short bursts.
They swim constantly or they will sink since, like other sharks, they have no gas filled swim bladder to keep them afloat like bony fish do. Like other sharks, their large, oily liver provides some buoyancy (floating ability). But they are still heavier than water and will sink unless they are propelling themselves through the water. Also like other sharks, they cannot swim backwards or even come to an abrupt stop, because their fins are not flexible like other fish. In order to go backwards, they must stop swimming and fall backwards, using gravity to propel them backwards.
It has been recently discovered that great white sharks can jump out of the water. They jump into the air from deep water in order to catch fast-swimming seals
Great white sharks reproduce via aplacental viviparity; they give birth to 2-14 fully formed pups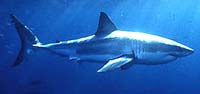 that are up to 5 feet (1.5 m) long. Like all sharks, fertilization of the eggs occurs within the female. The eggs hatch within the female and are nourished by eating unfertilized eggs and smaller siblings in the womb. There is no placenta to nourish the babies - they must fend for themselves, even before birth. They swim away from the mother immediately after birth, there is no maternal care giving.
No one yet knows for sure the life span of a Great white shark. It is believed to be around 20 years. Some people estimate it to be about 100 years also, but this has not been proven.
The majority of yearly moralities are caused by accidental entrapment in commercial fisheries and entanglement in anti-shark beach nets.
This species is now protected by national legislation in South Africa, Namibia, and California, Florida, all of Australia and Malta. It is afforded regional protected status in all eastern US coastal states, in the Mediterranean Sea under the Barcelona Convention (1993) and in Brazil.
An attempt to list this shark under Appendix 1 of CITES failed in 2000.
Statistics: These formidable sharks can grow up to 6m (20ft), although they average 4m (13ft).
Great white Shark Classification:
Kingdom Animalia (animals)
Phylum Chordata
SubPhylum Vertebrata (vertebrates)
Class Chondrichthyes (cartilaginous fish)
Subclass Elasmobranchii (sharks and rays)
Order Lamniformes
Family Lamnidae
Genus Carcharodon
Species C. carcharias