Mackerel Sharks
These sharks are fast, strong swimmers and include the great white shark and the mako. A type of Lamniformes shark, family Lamniformae.
Mako Shark
The shortfin mako shark (Isurus oxyrinchus) has a conical snout and long gill slits. It is the fastest swimming fish. These sharks reproduce via aplacental viviparity (they bear live young but the babies are not nourished via a placenta in the womb; cannibalism often occurs within the womb). Makos can maintain a body temperature higher than that of the surrounding water.Order: Lamniformes.
Megalodon Shark
Megalodon was an ancient shark, living between 25-1.6 million years ago; it is extinct. It may have been 40 feet (12 m) long or more. Only fossilized teeth have been found.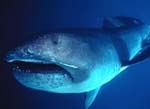 Megamouth Shark
Discovered in 1976, the Megamouth is a filter feeding shark that grows to be 16.5 feet (5 m) long. This nocturnal feeder eats small fish, shrimp, plankton, and jellyfish. Only 14 examples of this rare species have been found, mostly in the Pacific Ocean! Off the coast of Indonesia, three Sperm whales were observed attacking a megamouth shark (the 13th observed megamouth). Classification: Order Lamniformes, Family Megachasmidae, Genus Megachasma, species pelagios.
Mermaid's Purse
Mermaid's purse is a common name given to shark's eggs, which can have unusual and beautiful shapes.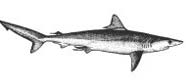 Milk Shark
The Milk Shark (Rhizoprionodon acutus) is a common requiem shark that is found in the Eastern Atlantic Ocean and the Indo-West Pacific Ocean. It grows to be up to 6 ft (1.8 m) long, and has a long, slim body. The mouth has long, characteistic labial folds at the corners that differentiate it from other requiem sharks. It is gray above and white below. The milk shark eats small fish (like sardines, herring, and flatfish) and invertebrates (like squid, octopus, shrimp, and crabs). This shark is harmless to humans. It is called the milk shark because in India, it is believed that eating its meat will improve the milk production of a mother. Classification: Order Carcharhiniformes, Family Megachasmidae, Genus Rhizoprionodon, species acutus.
Monk Fish
Squatina, also known as angel sharks, are flat-bodied, bottom-dwelling sharks. They have a blunt snout and have teeth that can crush the shellfish that they eat.
[ A | B | C | D | E | F | G | H | I | J | K | L | M | N | O | P | Q-R | S | T | U-Z ]